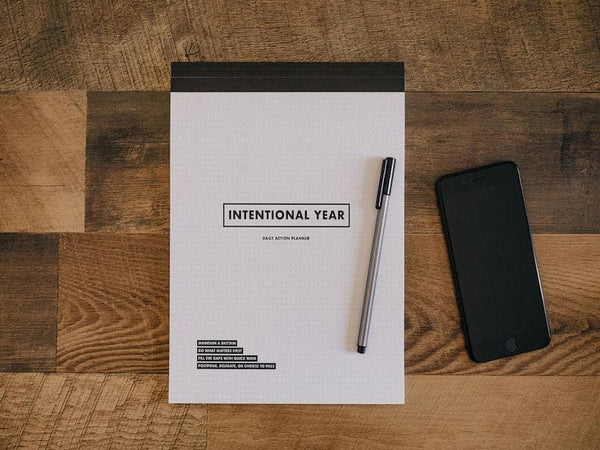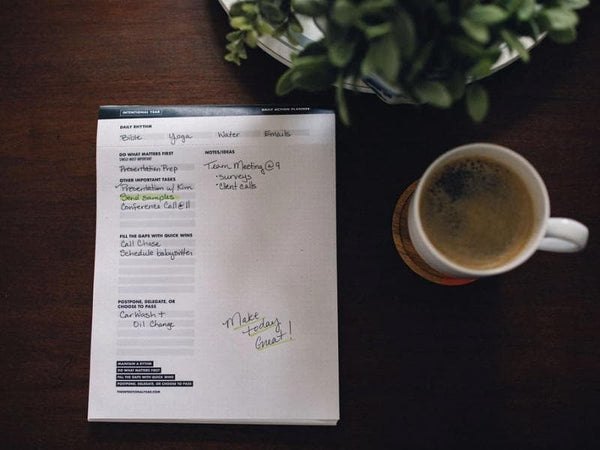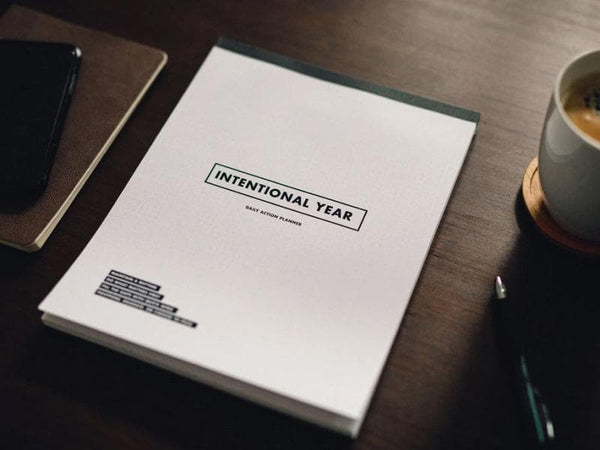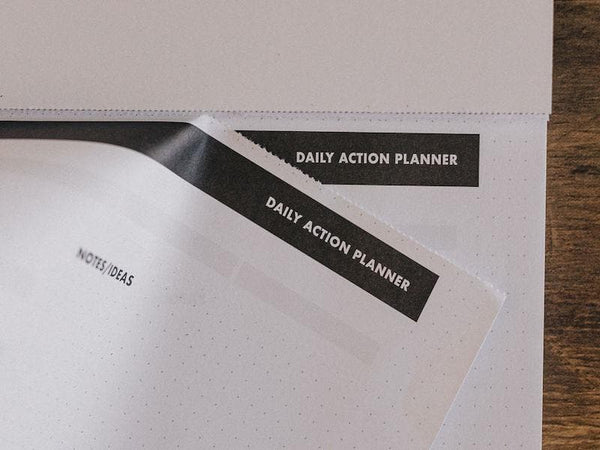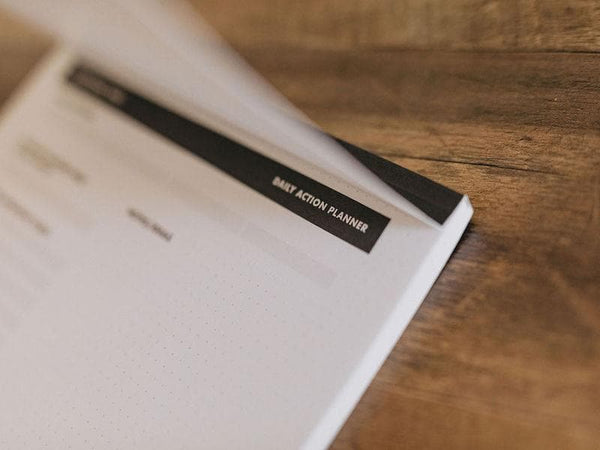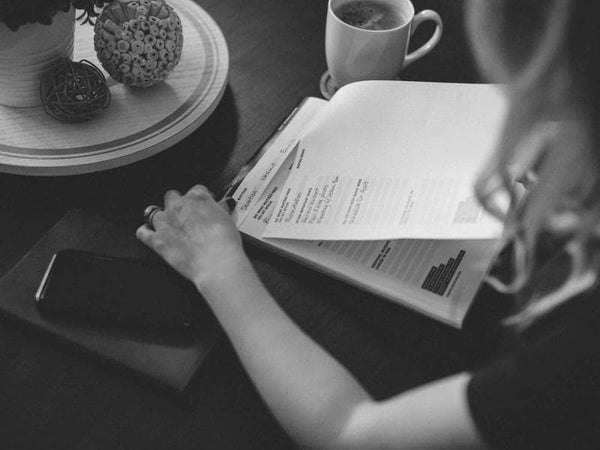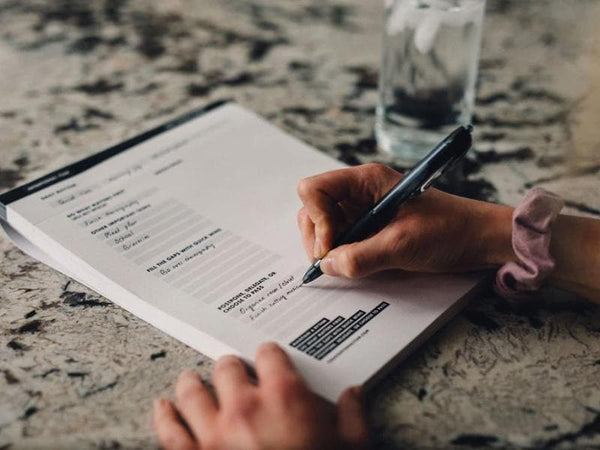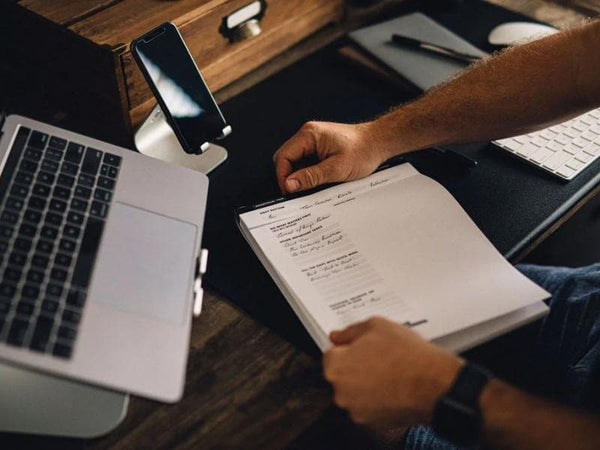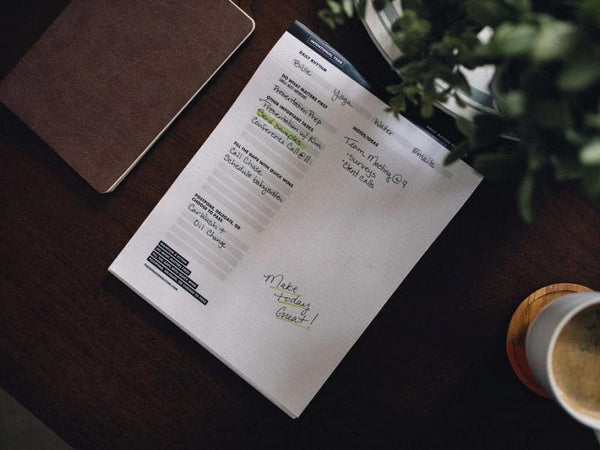 A 1-page daily productivity planner that will help you win each day with 4 simple steps. 
Everyday we're writing a page in the story of our year, which is ultimately writing a page in the story of our life. What you do today matters.. So make sure you do what matters. This planner helps you prioritize what matters and create a focused plan for getting it done. It's as simple as 4 daily steps:
The goal was to create the most effective daily planner on the market and we did it by creating the most focused planner on the market.
Complexity is the enemy of productivity. There are many great planners on the market, but let's be honest life doesn't always give us enough time to wade through all of the complexity that comes with them. This planner is for the mom, dad, business person that find themselves juggling life, work, and looking for a simple solution to stay focused and productive. 
Features
8.5 x 11 (Fits Standard Folios)
Paper Airplane Compatible
1 Page, 4 Steps...

To being the most productive version of yourself
Rhythms help keep us focused and productive during the day, especially when there's a lot to accomplish. Consider starting and ending your day with a simple routine that prepares you to tackle the big items on your list. For example, every morning you might workout, meditate, define priorities, check email, and start your most important task. Try different things until you find a rhythm that works for you.

It's easy to get bogged down with a million different tasks you need to accomplish everyday, but let's be honest, most of us aren't getting it all done. The most important thing is that we do what matters and do that first. Typically, the tasks that matter most are often also the hardest tasks. Naturally, we tend to postpone them in favor of something easier. Unfortunately, this leaves us more stressed and less productive at the end of the day. So, do what matters (and what's hard) first! This will set the tone for a successful day.

3.

Fill The Gaps With Quick Wins

Throughout the day, there are gaps, such as 5 minutes before the next call or 20 minutes before the end of the day. It's in these moments that time is often wasted because we don't know what to work on. Everyday, create a list of tasks that take 15 minutes or less. We all have plenty of these quick to-do's to tackle each day, whether it's paying a bill, responding to an email, or one of the many other tasks that can be done in a matter of minutes. When you find yourself with one of these gaps in your day, pick the first thing from this list and get it done. Filling the gaps with quick wins is a great way to accomplish more in your day.

4.

Postpone, Delegate, or Choose to Pass

Everyday there will be more to do than is physically possible. Successful people quickly learn to postpone, delegate or choose to pass. Making a conscious decision to postpone a to-do will free up mental space to focus on the task at hand. Delegate. I once heard someone say, "If you find someone who can do a task at least 80% as good as you... delegate." If you lead people or work within a team, learn how to delegate in order to make the most of your time. If you don't have anyone to delegate to, consider using automation tools to handle tasks you once managed yourself. Choosing to Pass is another key component to conquering your day. Learning to say "No" is one of the hardest, but best ways to be more efficient with your time.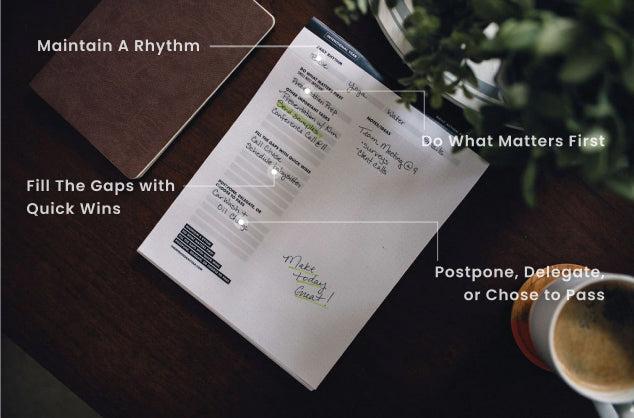 Customer Reviews
03/17/2021
Helps Me to Be Realistic
This is the most helpful planner I've ever used! It's helped me get my day started and prioritize my work each day. I find myself more consistently completing important tasks for the day and getting a better sense of how much I can realistically do each day which has helped my work flow overall. Best planner I've ever had!
Lynn B.

United States
03/17/2021
Keeps Me Focused
This planner is like an organized " to do " list with priorities. It has become the planner I use on a routine basis. It keeps me focused. Very likely to purchase again!
Sam B.

United States
03/13/2021
Simple but perfect
I was hesitant to try this because it seemed... too simple. But honestly, it's exactly what I need to organize my day. The categories are simple but powerful prompts to get things done. Yes, it's simple, but yes, it's perfect!
Travis H.

United States
03/13/2021
Simple but useful
I love this planner. Tearing away the pages makes it more practical for me to carry and it's organized in a simple but useful way.
Cindi F.

United States
03/13/2021
Helps Me Prioritize
This planner has really helped me prioritize what I truly need to accomplish in a day, and has made to-do lists so much less overwhelming. I love the space for notes and I've always been a fan of legal pads, so I like this. All I would add is a space for the date.
Andy M.

United States
02/22/2021
THE BEST!
This is the most concise, helpful organizational tool I've found. This is the daily nudge I needed to accomplish (or delegate). It doesn't hurt that the paper is lovely to touch and the layout is visually appealing. I bought one for a friend and an extra for myself. This will stay on my "wish list" for Mother's Day or birthday. Fabulous!
PB

United States
01/29/2021
Very Helpful!
I have ADHD and have tried many planners in my life. I still need to develop a better habit of using this planner daily, but when I do, it has been very helpful! I appreciate the way that it is laid out to help focus on priorities and get little wins throughout my workday that help me to keep going. I like that this planner is simple and straightforward, but that it breaks daily tasks down into categories. I also really love the legal pad format and the perforated pages. I think this is the planner I have been looking for for a while and am very happy with it so far. Thank you!
Mollie

United States
01/21/2021
Love this planner
I love how this planner is organized. The categories are perfect for prioritizing the day, from the one must-do tasks to quick wins that can be filled in only a few minutes. I also really like the space at the top to help me sharpen and commit to my morning routine.
Brandi G.

United States
01/18/2021
Bought for my whole team.
Excellent, non-complicated daily planner with all the right elements. I have only been using this for a week and it has definitely helped me organize my day more effectively as well as focus on delivering the essentials and just letting some things go for the day. I made use of the offer and bought enough for my whole marketing team, I'm sure they'll love it too!.
Taniqua B.

United States
01/06/2021
Just right!
Everything you need, nothing you don't! This planner has a great organization to it: check marks for tasks, a place to take notes, and simple categories. I love that it's undated for flexibility. I do wish I'd had the option of purchasing one already hole punched but it's a minor inconvenience. I'm glad I bought enough for the year; it's my favorite planner!
Hannah

United States